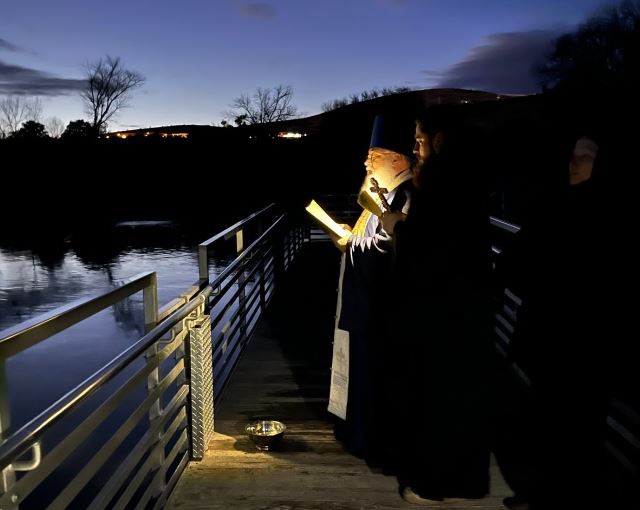 It was a chilly 37 degrees (F) on Thursday, January 19th in Prescott Valley, as an ancient ritual of blessing took place at Fain Lake. The occasion, Theophany – the commemoration of the Baptism of Jesus Christ in the Jordan River by John the Baptist. This feast is held worldwide, and for most Orthodox Churches, on Jan. 19th.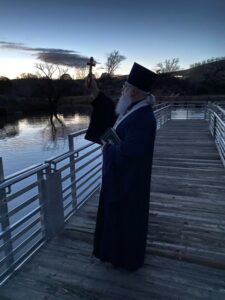 The clergy and parishioners of St. Nicholas Orthodox Church in PV gathered for the Great Blessing of Waters at Fain Park. The Sanctification of the waters is a special time for Orthodox Christians around the world, as it ushers in a season of house blessings, and holy water for all, sanctifying all Creation. In warmer climates, a cross is thrown into the water, and young swimmers race to recover it to obtain a special blessing for the coming year. In many cold climates, a cross shaped hole is dug out of the ice, and the waters are blessed from there (although as a novelty challenge, many people will still immerse themselves in the freezing waters, especially in Russia!).
For Christians, Theophany has special significance, as the baptism of Christ is the first explicit mention in the Bible of the revelation of the Holy Trinity.
The event ended with the traditional greeting between Fr. John A. Peck, the priest of St. Nicholas Church, and the faithful. "Christ is baptized in the Jordan!" the priest shouted.
"And we with Him!" the faithful respond in full voice.